Emplacement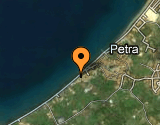 Voir la carte
Εxtérieurs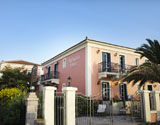 Voir la vidéo
360° view
Nos chambres
30 chambres réparties dans 3 bâtiments nouvellement construits par le propriétaire (ingénieur civil), avec:
Air-conditionné
Flat (LCD) 19″ TV satellite
Insonorisation
Réfrigérateur
Ligne téléphonique directe
Balcon individuel ou terrace avec une vue soit de:
Nos services
La Réception vous accueille de 8h à 23h. Coffre-fort et service de fax.
Le Bar-Salon est un espace convivial où vous pouvez vous détendre, jouez aux échecs ou au backgammon, y siroter un cocktail. Une télévision à écran plat avec chaines satellites est discrètement placée au fond du salon.
Le petit-déjeuner buffet (compris dans le prix de la chambre) est servi entre 7:00 et 10:30 tous les jours.
Le restaurant propose, entre autres, les plats traditionnels grecs sur la terrasse ou en salle, tous les jours de 12:00 à 21:30 (service continu).
Piscine avec Jacuzzi et chutes d'eau
Une connexion wifi (sans supplément) dans toutes les chambres et les espaces communs de l'hôtel.
Terrain de jeu pour vos enfants en bas âge et un service de babysitting (sur demande).
Copieux et varié, le petit-déjeuner, dressé en buffet, pourra être dégusté sur la terrasse ou dans la salle à manger jusqu'à 10:30 tous les jours et comprend:
Du café filtré, du thé, du lait frais
Jus de griottes, jus d'orange, jus de pamplemousse
Des fruits frais (selon la saison)
De haute qualité de fromage feta
Salade de concombre et de tomate
Trois différents types de koulourakia
Du pain frais ou grillé, des biscottes
Du jambon, du fromage
Des oeufs à la coque
Des céréales au choix
Du yaourt Grec, servi avec du miel grec
Trois sortes de confiture et du beurre de haute qualité
Note: Ce sont les éléments essentiels. De temps en temps, plus de choses sont incluses.
Salads & starters
Seasonal salad

€3.50

Large Greek salad

€4.50
€5.00

High quality feta cheese

€2.60
€2.60

Tzatziki (Greek yoghurt dip)

€2.60

Melitzanosalata (Greek eggplant dip)

€2.60

Tirokafteri (Greek hot cheese dip)

€2.60

Assorted greek starters

€4.00
Snacks
Cheese & ham toasted sandwich

€2.00

Large sandwich

€2.60

Soup of the day

€4.00
Greek meze
Meze for wine

€6.50

Meze for ouzo

€6.00
Main courses
Spaghetti Napoli

€3.50

Spaghetti Bolognese

€4.40

Risotto with vegetables

€4.40

Omelette

€3.00

Ham & cheese omelette

€4.00

Chicken fillet

€5.00

Hamburger

€4.00

Homemade Greek beef patties

€6.00

Pork chops

€6.00

Steak

€8.00
Desserts
Slice of cake

€2.50

Fruit salad

€2.50

Ice cream Special

€4.40
Note: We use extra virgin olive oil for all our dishes.
Alcoholic
Beer bottle (0.5L)

€2.40

Wine (per glass)

€2.50

Wine (per bottle)

€8–20

Ouzo

€2.00

Martini, Campari

€3.00

Gin, Vodka, Tequila, Whisky

€4.60

Liqueur, Schnapps

€4.60

Cocktails & long drinks

€5.50

Brandy, Cognac

€3–5.50
Non-alcoholic
Soft drinks

€1.50

Small water bottle (0.5L)

€0.50

Large water bottle (1.5L)

€1.00

Filtered coffee

€2.00

Instant coffee

€2.00

Espresso

€1.70

Cappuccino

€2.40

Latte

€2.80

Hot chocolate

€2.00
Rechercher
Michaelia Hotel is a very nice and clean hotel situated in the traditional village of Petra at Lesvos, one of the Greeke islands. The hospitality is the best you can have. Me and my family have stayed at Michaelia several times, and will go back as soon as possible next summer. A place to calm down and just live the quiet life.

bdiva76 (Oslo, Norway)

I visited after some time the Hotel Michaelia in August 2010 and I was astonished by the aesthetics & functionality of the recent rennovation. The rooms were very bright with soft colors. I loved the the garden with its unique furniture, the rock garden with the fish pond, the pool with the waterfalls and wooden deck around. It's an elegant hotel with a great attention to detail and excellent surroundings. I found the same personnel as my previous visit, always friendly and prompt to make you feel comfortable, as if you were among friends. Very nice, relaxing vacation with beautiful images. We're awaiting eagerly to find the time to visit again.

Laura_Bakker (Amsterdam, The Netherlands)

We have recently returned to Norway after two wonderful weeks at the Hotel Michaelia in Petra. Our views are of course coloured by being two well grown-up couples who don't much like being roasted beside a pool, and are looking more for the genuine Greek hospitality than for luxury and the cool professional attitude you can find in the big hotels whichever country you visit.

Nevertheless, we could also see that a family of five, with children from 5 to 10 years, enjoyed their stay immencely.

Our room had balconies towards the sea, with only the road between. A wonderful place to sip an ouzo while watching the spectacular sight of the sun going down into the Egaean, before going out for dinner.

The rooms were adequate, spotlessly clean and with AC. The breakfast buffet had everything we needed, and the garden was a nice place to sit and relax with a cup of coffe in the afternoon.

We can't talk about the Michaelia without mentioning the owner and our hostess, Maria, a wonderful woman who made us feel very welcome, and had very interesting plans for the future of the hotel. We are looking forward to return and see what happens.

But please, Maria, don't do anything that changes the atmosphere of your hotel, it's just perfect!

John (Suldal, Norway)

Loved this hotel! The service was excellent and very very friendly! It's located just across the beach and I could just sit in the balcony and gaze at the sea for hours. The breakfast was very delicious and the place was really, really clean everywhere! I certainly recommend it to anyone who wants to relax and enjoy his holiday.

A TripAdvisor Member (Greece)

I stayed in the hotel in June 2009. I was very happy with the hotel services, they were always friendly and very helpful with everything I needed, including general advice about the area and what I should visit. The whole atmosphere of the hotel felt like a big family! The rooms were very clean and nicely decorated. I'll try to visit again this year.

iJohnnyCash (Patras, Greece)
Questions?
Adresse postale
Mer route de Petra
81109 Petra, Lesvos, Greece
Numéros de téléphone
(+30) 22530 41731-2
Fax: (+30) 22530 41733