Location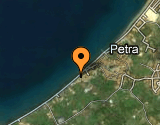 View map
Exteriors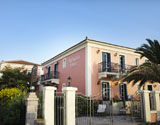 Watch video
360° view
Our rooms
30 rooms distributed in 3 buildings newly built by the owner (civil engineer), with:
Air-conditioning
Flat (LCD) 19″ Satellite TV
Soundproofing
Refrigerator
Direct dial telephone
Individual balcony or terrace with a view to either:
Our services
Hotel Facilities
Reception desk operates from 08:00 to 23:00
Express check out service
Free wireless internet (Wi-Fi) in every room and all hotel areas
Laptop or tablet provided (upon request)
Swimming pool with Jacuzzi and waterfalls
Travelling with children? We have a fun playground and we offer baby sitting (upon request)
Sitting room and lounge with a 42″ satellitte TV-corner.
Safety box (upon request)
Rooms
Wake-up call service
Direct telephone line in room
Daily room cleaning service
Change of bed linen every three days
Change of bath towels every two days
Bar - Restaurant
Free plentiful buffet breakfast 7am to 10:30am every morning.
Restaurant serving a dishes and snacks (Operating hours: 12:00-21:30)
Early bird breakfast
Take away food wrapped in foil (upon request)
Breakfast in room (upon request)
Our breakfast buffet includes at least:
Tea & filtered coffee
Fresh milk
Orange, sour cherry and grapefruit juices
Seasonal fruits
High quality feta cheese
Freshly sliced tomato and cucumber
Three different kinds of koulourakia
Bread, toast and crackers
Ham and sliced cheese
Boiled eggs
Two different kinds of breakfast cereal
Greek yoghurt and honey
Three kinds of jam and high quality butter
Note: These are the essentials. Occasionally, more things are included.
Salads & starters
Seasonal salad

€3.50

Large Greek salad

€4.50
€5.00

High quality feta cheese

€2.60
€2.60

Tzatziki (Greek yoghurt dip)

€2.60

Melitzanosalata (Greek eggplant dip)

€2.60

Tirokafteri (Greek hot cheese dip)

€2.60

Assorted greek starters

€4.00
Snacks
Cheese & ham toasted sandwich

€2.00

Large sandwich

€2.60

Soup of the day

€4.00
Greek meze
Meze for wine

€6.50

Meze for ouzo

€6.00
Main courses
Spaghetti Napoli

€3.50

Spaghetti Bolognese

€4.40

Risotto with vegetables

€4.40

Omelette

€3.00

Ham & cheese omelette

€4.00

Chicken fillet

€5.00

Hamburger

€4.00

Homemade Greek beef patties

€6.00

Pork chops

€6.00

Steak

€8.00
Desserts
Slice of cake

€2.50

Fruit salad

€2.50

Ice cream Special

€4.40
Note: We use extra virgin olive oil for all our dishes.
Alcoholic
Beer bottle (0.5L)

€2.40

Wine (per glass)

€2.50

Wine (per bottle)

€8–20

Ouzo

€2.00

Martini, Campari

€3.00

Gin, Vodka, Tequila, Whisky

€4.60

Liqueur, Schnapps

€4.60

Cocktails & long drinks

€5.50

Brandy, Cognac

€3–5.50
Non-alcoholic
Soft drinks

€1.50

Small water bottle (0.5L)

€0.50

Large water bottle (1.5L)

€1.00

Filtered coffee

€2.00

Instant coffee

€2.00

Espresso

€1.70

Cappuccino

€2.40

Latte

€2.80

Hot chocolate

€2.00
Find & Book
Michaelia Hotel is a very nice and clean hotel situated in the traditional village of Petra at Lesvos, one of the Greeke islands. The hospitality is the best you can have. Me and my family have stayed at Michaelia several times, and will go back as soon as possible next summer. A place to calm down and just live the quiet life.

bdiva76 (Oslo, Norway)

I visited after some time the Hotel Michaelia in August 2010 and I was astonished by the aesthetics & functionality of the recent rennovation. The rooms were very bright with soft colors. I loved the the garden with its unique furniture, the rock garden with the fish pond, the pool with the waterfalls and wooden deck around. It's an elegant hotel with a great attention to detail and excellent surroundings. I found the same personnel as my previous visit, always friendly and prompt to make you feel comfortable, as if you were among friends. Very nice, relaxing vacation with beautiful images. We're awaiting eagerly to find the time to visit again.

Laura_Bakker (Amsterdam, The Netherlands)

We have recently returned to Norway after two wonderful weeks at the Hotel Michaelia in Petra. Our views are of course coloured by being two well grown-up couples who don't much like being roasted beside a pool, and are looking more for the genuine Greek hospitality than for luxury and the cool professional attitude you can find in the big hotels whichever country you visit.

Nevertheless, we could also see that a family of five, with children from 5 to 10 years, enjoyed their stay immencely.

Our room had balconies towards the sea, with only the road between. A wonderful place to sip an ouzo while watching the spectacular sight of the sun going down into the Egaean, before going out for dinner.

The rooms were adequate, spotlessly clean and with AC. The breakfast buffet had everything we needed, and the garden was a nice place to sit and relax with a cup of coffe in the afternoon.

We can't talk about the Michaelia without mentioning the owner and our hostess, Maria, a wonderful woman who made us feel very welcome, and had very interesting plans for the future of the hotel. We are looking forward to return and see what happens.

But please, Maria, don't do anything that changes the atmosphere of your hotel, it's just perfect!

John (Suldal, Norway)

Loved this hotel! The service was excellent and very very friendly! It's located just across the beach and I could just sit in the balcony and gaze at the sea for hours. The breakfast was very delicious and the place was really, really clean everywhere! I certainly recommend it to anyone who wants to relax and enjoy his holiday.

A TripAdvisor Member (Greece)

I stayed in the hotel in June 2009. I was very happy with the hotel services, they were always friendly and very helpful with everything I needed, including general advice about the area and what I should visit. The whole atmosphere of the hotel felt like a big family! The rooms were very clean and nicely decorated. I'll try to visit again this year.

iJohnnyCash (Patras, Greece)
Questions?
Postal address
Seaside Road of Petra
81109 Petra, Lesvos, Greece
Phone numbers
(+30) 22530 41731-2
Fax: (+30) 22530 41733